Pool Renovation Options– New Look,
New Design Options, New Experience
Renovating your swimming pool or inground spa can be a very exciting experience. You'll immediately increase the amount of time you use it, you can implement time and money saving options, and you can take it to the next level when it comes to the pool design. Some of the things to consider when renovating your swimming pool or spa include: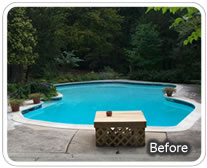 Finishes
Over time, pool finishes can discolor or pit. This can result from improper water balance or minerals in the water. Sometimes the problem can be solved with an acid wash, which will remove the top layer leaving the surface clean.

But there are only so many acid washes in a finish's life. So resurfacing may be in order. It's also a good time to think about the kind of surface you want.

We offer Marcite, Pebble, Ansylbrite, Marbelite and Aggregate finishes. All are beautiful when completed, and they come in various colors and will add new dimension and texture to your pool. Your pool design consultant can help you choose the right finish for your pool, lifestyle and location. Click here to learn more about pool finishes.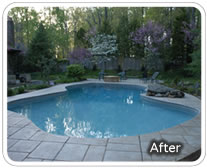 Pool Decking
There are many options available for decking such as Kool Deck, Brick Pavers, Stamped Concrete, Stone and more! The choice you make should be coordinated with your tile and pool finish. Our design consultant will show you combinations of each to make the selection process easy. It's choosing your favorite that's the hardest! Click here to learn more about decking options.

Tile
You can refresh the look of your swimming pool or spa with new tile available in vivid colors or earth tones, in solids or geometric designs. These days you can get tiles in just about any design. Click here to learn more about tile options.

Coping
Coping creates a dramatic difference between the water and the deck. Replacing old swimming pool coping or adding a coping edge are options you will definitely want to consider. Click here to learn more about coping options.

Water Features
You can easily add a waterfall, fountain or any number of additional features that will create a new look for your pool. Fountains and waterfalls also produce a soothing sound of water as it cascades into the pool that will force you to relax for years to come. Click here to learn more about water feature options.

Lighting
Your pool lighting can create the most astounding change in a pool during the evening. Today's lighting provides a rainbow of colors that can be controlled in hue, intensity and duration. Light up your pool with any color you want. And if you have a spa, you can synchronize the lighting between them for your very own light show. Click here to learn more about lighting options.

Equipment
Adding new filter and cleaning systems are the renovations that will make maintaining your pool so much easier. They're renovations that only you will see, but they will have a great impact on the quality of the water and will save you money and time.
You can also add automation equipment to your swimming pool. You can control heat, lights, bubbles in the spa and so much more. You can even have the system do a self-diagnosis and alert you to any problems.
The bottom line is you will spend more time enjoying the swimming pool. Click here to learn more about equipment options.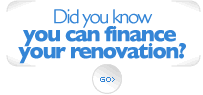 To schedule a no-obligation consultation with one of our swimming pool and spa design consultants, click here or call 1-888-629-2227.