Anchor Safety Pool Covers - Protecting your family and your investment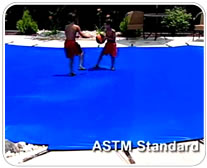 An appropriate Safety Pool Cover can help limit accidental entry by children and pets when your pool isn't in use.
Our patented cover is so strong; you can even walk on it!
A cover will keep the pool area clean and attractive, protect your pool's finish from the damaging effects of the weather, and maintain proper chemical balance underneath its protective shield. By reducing the build-up of dirt and debris, you'll be able to reopen your pool faster and easier.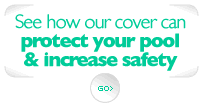 Our covers are available in various colors and made of high quality,
heavy-duty fabric that outlasts conventional materials and provides a smooth, tight, uniform tensioned fit that is easy to install and maintain.

To schedule a no-obligation consultation with one of our swimming pool and spa design consultants, click here or call 1-888-629-2227.