Automatic Pool Cleaners – Just sit back
and relax!
Obviously, it's more fun to swim in a pool than to clean it. That's probably why the automatic pool cleaner is a device near and dear to the hearts of pool owners.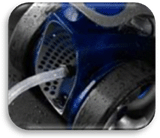 Pressure-Side Units
Among pool cleaners, pressure side units have distinct advantages. They are helpful in distributing clean, filtered water around the pool and having their own debris bag so they don't compromise the filter system.


Polaris 3900 Sport
Experience Built It, Style Defines It
Built on Polaris expertise, the Polaris 3900 Sport delivers the most technologically advanced pool cleaner on the market.
PosiDrive all-wheel drive system with 50% more torque
Most vacuum power of any 3-jet Polaris cleaner, with 40 GPM of additional pool filtration through the filter bag
5-liter capacity filter bag with easy twist-release connector
Durable plastics and stainless steel hardware.
---
In-Floor Cleaning Systems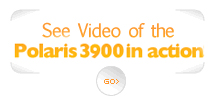 Utilizing a network of strategically placed pop-up cleaning and circulating nozzles built into the floor of the pool, these unique systems use the pressure of clean water to provide circulation benefits, maintenance cost savings and to filter the debris out through the pool's filtration system. Built on a system of return lines, banks of cleaning heads in the pool floor pop-up, spray a jet of water, retract, turn and pop-up again to systematically blow dirt into the pool's filtration system.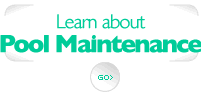 Since the system circulates clean, filtered, heated water, chemical distribution is more efficient, reducing costs, and cold spots are virtually eliminated. Available as a complete cleaning system or as a step and bench system that supplements an automatic pool cleaner.
TigerShark® Robotic Cleaner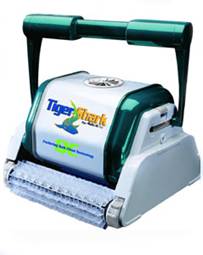 We engineer our line of cleaners to be low-maintenance, easy to install and energy-efficient. That's what makes the specialty product of the season our energy-efficient
TigerShark® Robotic
Cleaner. The TigerShark uses less energy than pressure or suction cleaners and has been selling worldwide for 40 years—a true testimony to its outstanding performance and track record.
Easy to use and operate, all you do is take it out of the box, plug it in and you're ready to go—no additional tools required. ilt on Polaris expertise, the Polaris 3900 Sport delivers the most technologically advanced pool cleaner on the market.
Utilizing its on-board smart computer, it calculates the size of your pool for a programmed energy efficient cleaning pattern for a spotless clean pool…every time. This advanced portable cleaner brushes and scrubs while it vacuums reaching everywhere in your pool including the bottom, sides and steps. It also features an easy to clean reinforced cartridge element, which means no more bags—yet another eco-friendly attribute.
---
To schedule a no-obligation consultation with one of our swimming pool and spa design consultants, click here or call 1-888-629-2227.