Pool and Spa Coping – Decorate, Innovate, Originate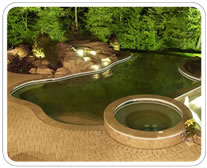 Coping adds a decorative touch to your pool or spa perimeter and is available in a number of different configurations, including decorative brick, stone, or a number of materials to finish the top of your pool or spa. In addition to being naturally beautiful, it is also functional,
as coping may help the edge of the pool or spa stay cooler to the touch
. The coping offered by Blue Diamond Pool and Spa is available in a number of different finishes and specifications, designed to integrate seamlessly into the look and feel of your pool or spa design.
We will help you choose either stones indigenous to your area or coping capable of blending into your design and the general environmental conditions of your region.
Below are a few examples of the various types of coping available:
To schedule a no-obligation consultation with one of our swimming pool and spa design consultants, click here or call 1-888-629-2227.