Pool and Spa Water Features
When you meet with your Blue Diamond design consultant, be sure to ask about our attractive water features. These custom installations can be all shapes and sizes, however our waterfalls are by far the most popular of all.
Custom water features from Blue Diamond can add an element of peace and tranquility to your poolscape. They are simple to install during construction and are super impressive when finished.
Waterfalls are only the beginning of our vast array of features. The following are a few more of our impressive water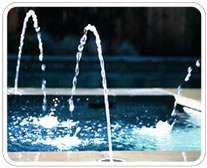 feature options.
Laminar Jets
These impressive jets can shoot up to 7'high and 8' into your pool with a smooth arc of water. Blue Diamond can even add pulses of fiber optic light providing color that travels throughout the stream of the water to create your very own nighttime show! They can be hidden in shrubs or planters and send arcing or falling water into the pool. The mechanicals can even be tastefully covered by Deck Box Lids available in pebble, pewter, or black.
Sheer Descent Waterfalls (Sheet Falls)
Blue Diamond offers Sheer Decent Waterfalls or more commonly called sheet falls, which are a smooth ledge of water falling over an edge. These can be installed in any pool and come in an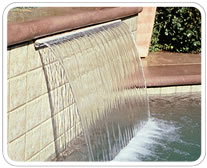 exciting array of finishes.
Sheer Descent Waterfalls Add Splendor And Excitement to Your Blue Diamond Pool!
Sheer Descents offers a vast array of effects to fit your atmosphere.
Sheer Descent Waterfalls come in a variety shapes and sizes including extended lip and curved models with lengths from 8" to 8'.
Radius and Super Radius Waterfalls: Radius and Super Radius Sheer
Descents can come in numerous unusual shapes and designs.
Hammered Metal Finishes: Sheer Rain, Sheer Descent and Sheer Curtain waterfalls come with either hammered or bonded metal lips. Our finishes can be polished or left alone to age with beauty. Blue Diamond offers nickel, copper, brass, and bronze.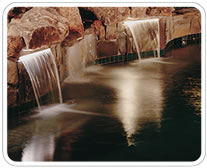 Rock Waterfalls
Blue Diamond can create a backyard of your dreams with rock waterfalls. These striking water features can be adjusted from a quiet trickle to a thundering river. Planters and foliage complete the effect of your own backyard jungle oasis.

Fountains
These extraordinary works of art can truly make your Blue Diamond pool your own. We carry everything from dolphins, mermaids, or even custom designs from your imagination! The sky's the limit on the design of your Blue Diamond fountain.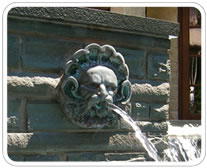 Some of our fountains require their own water supply such as ponds, bird baths, and water gardens. These can be easily installed by your Blue Diamond professionals.

There are endless types of additional water features to ask your Blue Diamond design consultant about including trickling streams, shallow riverbeds, and planter waterfalls. See your Blue Diamond design consultant for more details. Your Blue Diamond water features are only bound by your imagination. Add to the striking appeal of your oasis by adding a custom stress reliever.

To schedule a no-obligation consultation with one of our swimming pool and spa design consultants, click here or call 1-888-629-2227.