Vinyl, Concrete or Fiberglass Options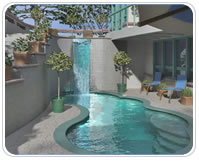 Fiberglass Construction
In many of the areas throughout Tennessee, we offer a choice of construction method that allows you to choose between vinyl, concrete, and fiberglass for the option that best suits your needs.
All three vinyl, concrete and fiberglass construction are a reliable and long-term solution that will provide your family with fun and relaxation for years to come while increasing the value of your home.
Inground Concrete Pools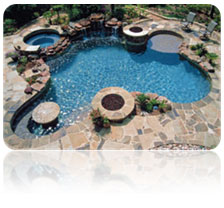 Concrete pools are the most flexible pool types in terms of design. Concrete pools are often seen in commercial applications; many private homeowners, however, also choose concrete pools for their flexibility since they can be built in any shape. Concrete pools can be designed to fit into irregular spaces and reflect the style of your home. From traditional to free form, the options are limited only by your imagination. These are permanent, reinforced pools finished with concrete and plaster. A wide variety of special options such as waterfalls, custom steps and beach entries can be easily added to complement these high-quality pools. Concrete pool owners can also choose from many plaster finishes or pebble applications, allowing for maximum creativity. The high quality of these pools can put them in the higher price range.
Inground Vinyl Pools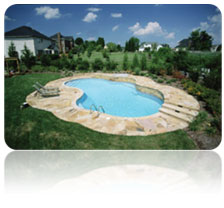 Pre-engineered vinyl-liner pools can be less labor-intensive than concrete pools and, in some regions, a less expensive method of construction.
Thanks to pre-fabricated materials and a simpler construction process, vinyl pools can be completed more quickly than concrete pools. Manufacturers have created a wide variety of liner patterns and colors including tile motifs. Pool owners can choose from many options to enhance their poolscapes.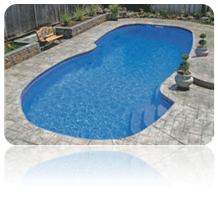 Inground Fiberglass Pools
One-piece fiberglass pools arrive readymade, so installation is fast! Fiberglass pools come pre-formed and prefinished, ready to set into the ground. Because of the smooth surface, which is a characteristic of fiberglass pools, algae has difficulty clinging to it. This smooth surface means easier maintenance and fewer chemicals. Your
Blue Diamond Pool Consultant
can show you options that will fit your backyard and your lifestyle. You could be swimming in just a few days!
The cost and visual appearance of all 3 methods vary, so the option that is best for you will likely depend more on your lifestyle, your vision for the use of your pool, and the design you have in mind.

To schedule a no-obligation consultation with one of our swimming pool and spa design consultants, click here or call 1-888-629-2227.