Incredible Keystone Pool
Half-way in, all decked out.
The Radiant Keystone Semi-Inground Pool is the perfect backyard centerpiece for summer poolside barbecues, or simply soaking up the sun in your favorite lounge chair. This Grecian-shaped pool is installed semi-inground with size and installation options that allow it to comply with the property restrictions and requirements of many homeowner's associations.
Downloads
For Dig Specifications or Stamped Drawings for any of our pools, please contact our office at 1-888-629-2227.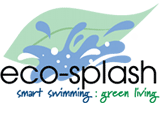 About the Keystone Pool
So Many Options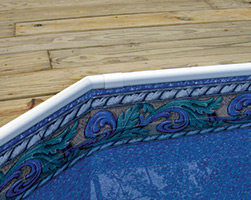 With a required minimum of half the pool wall height below the ground, you can add a full deck and railing system to this amazing pool. The Keystone Series Pool Kit comes with 5/4 wood receptor coping to afford a smooth transition form deck to pool, creating a clean finished edge. Add a walk-in step, and you enjoy the look and feel of an inground pool for a fraction of the price.
Neighborhood Compliance
The Radiant Keystone Series Pool has varied sizes and installation options that allow it to comply with the requirements and restrictions of many homeowner's associations regarding swimming pools.
Shapes and Sizes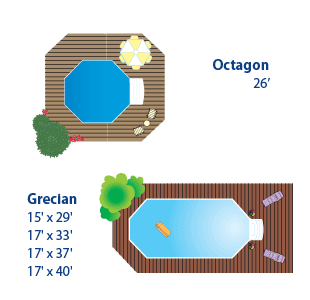 The Radiant Keystone Series Pool is available in 42", 48", and 52" wall heights with different shapes and sizes to fit your backyard style. Available options include:
2009 Keystone Pool Liner Selection:
All Radiant Pools come with a quality beaded liner in a choice of beautiful and distinct patterns to fit any taste and style. The strength and durability of all our liners are backed by a 15-year limited warranty.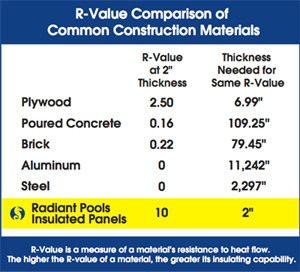 Not all pools are created equal...
When it comes to innovative engineering and superior structural integrity, it's what you don't see that counts. Radiant Pools R-10 insulated wall panels are constructed for strength and durability as well as energy efficiency not found in other inground pools. The acrylic-coated aluminum walls resist oxidation and corrosion and provides extra liner protection. All aluminum components make this pool completely rust free. The Radiant Pool wall is stronger than steel, polymer, even 12" of concrete and it will never rust, warp or crack.
Greater structural integrity with long term cost savings makes a Radiant Pool a wise backyard investment. It is simply brilliant.
With the superior heat retention properties of a Radiant Pool, you can swim during the entire swimming season without the need of a heater. Save $1000's on heating costs!
The water temperature you desire for your swimming pool directly affects your energy cost if you use a gas or heat pump pool heater. Pool water temps typically range from 78°F to 82°F. The American Red Cross recommends a temperature of 78°F for competitive swimming. However, most people prefer water temperature of 80°F or higher.
With an insulated Radiant Pool, the average pool owner can save up to 25% on their annual swimming pool heating cost. A Radiant pool owner in Boston, MA, using a gas heater, will save approximately $655 per year which adds up to $13,100 over 20 years.
Radiant Pools is the smart investment that truly pays you back. To find out more, download our Incredible Return Information sheet.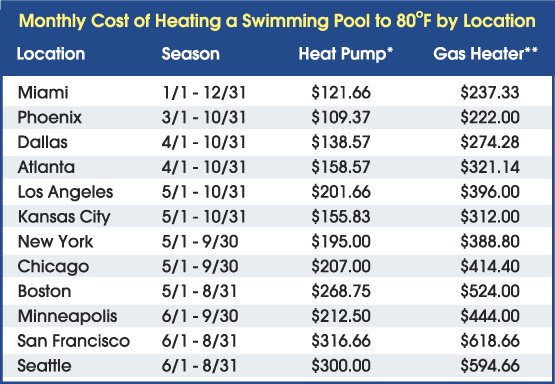 *Figures based on 1000 sq. ft. outdoor heated pool with an air to water heat pump with an average
COP of 5.0 at $.85/kwh.
**Figures based on a 1000 sq. ft. outdoor heated pool with an 80% efficient natural gas heater at $.50
per therm. Information Source: U.S. DOE-EERE Consumers's Guide